Welcome to Thoroughbred Ford Parts Department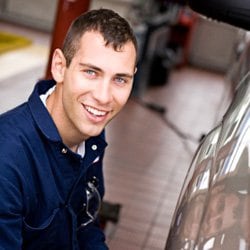 Why Use Ford Parts in Platte City?
It doesn't matter if you enjoy a good DIY project or you want our technicians at Thoroughbred Ford of Platte City to handle repairs, having the right parts for the job is key to your success. When you visit our parts team Kansas City and Liberty, you'll not only find a wide selection of products for your crossover, SUV or truck, but you'll know with certainty that they're designed to fit your exact model.
Learn more about the perks of picking genuine Ford parts?
Now, there's plenty of auto parts stores serving the Northland area from Kansas City to Liberty, so you might rightly wonder, "Why come to Thoroughbred Ford of Platte City when I could just go to my local shop for parts?" Well, unlike the generic parts you'll find for sale at other auto parts stores, our genuine Ford parts are backed by the Original Equipment Manufacturer, meaning they're the same components used to produce your crossover, SUV or truck in the first place. Our genuine Ford parts are guaranteed to fit your vehicle, so there's no need to fret over functionality ever again.
Outfit Your Vehicle Today
The quickest way to get started customizing your Ford vehicle, is to take advantage of our easy-to-use, online order form. Fill out this request form and tell us exactly what you're looking for, and we'll get you on the right path. You can also stop by and visit us in person in Platte City and let us answer any questions you might have and help you problem-solve exactly what tasks you need your new parts to accomplish and which parts you're looking for.